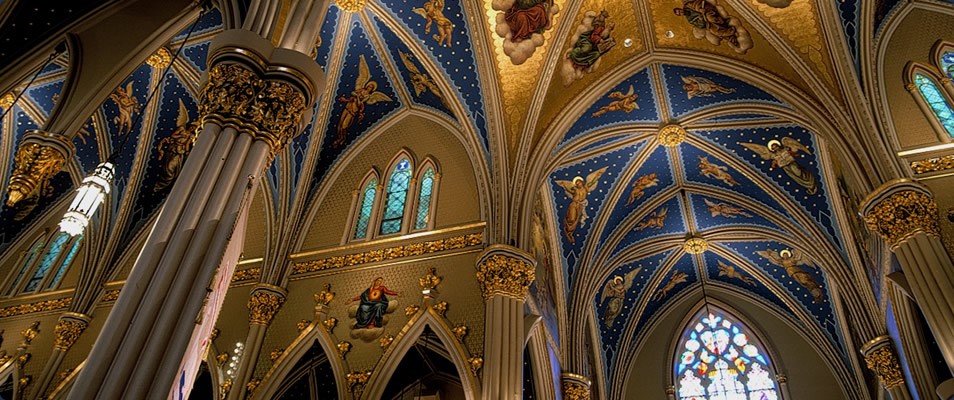 The V International Congress of the John Gower Society will take place on the campus of the University of Notre Dame June 29, June 30, and July 1, 2020. The theme of the conference is "Gower in Contexts: His Words, His Books, His Heritage." Featured plenary speakers are Ann Astell (University of Notre Dame) and Andrew Galloway (Cornell University). Located 90 miles east of Chicago, the Notre Dame area offers easy access to Lake Michigan, the Potawatomi Zoo, several state parks, the Studebaker National Museum, and other sites.
 Registration
Registration includes admittance to all sessions; a reception in the Hesburgh Library on June 29; coffee service, breakfast, and lunches throughout the conference; dinner on June 30; entry to a display of early editions of the Confessio Amantis in the Hesburgh Library; and a viewing of the "Cosmic Egg," a multimedia spectacular based on Hildegard of Bingen's egg-shaped model of the universe.
Regular Registration Fee: $275.00
Student Registration Fee: $200.00
Deadline to register is June 8, 2020.
Deadline to cancel with a refund is June 15, 2020.
Draft Program
 Provisional Program for the Congress (subject to change)
Accommodations
Residence Hall Housing:
Air-conditioned residence hall rooms (Pasquerilla West Hall) are being held the nights of June 28, 29, 30 & July 1, 2020. Single rate is $80 per person/per night and double is $70 per person/per night.
Blankets, sheets and towels are provided during your stay. Lavatories and showers are shared in common with separate men's and women's facilities on each floor. There is no provision for more than two persons per room. There are no adjoining rooms. No minors or pets are allowed to stay in residence hall rooms.
(unofficial images of student room in Pasquerilla West – room size and layout may vary)
 Hotel Accommodations:
On Campus: There is a group block of rooms at the Morris Inn hotel on campus for king rooms for $179, plus tax on Saturday, June 27.  $139 per night, plus tax, for the nights of June 28- July 1, 2020.
Off Campus: There are two hotels within walking distance (10-15 min.) to campus, Fairfield Inn & Suites and Embassy Suites. No group blocks have been arranged for these hotels. Please make your reservations directly.
Travel to South Bend
By Air
South Bend International Airport is about 15 minutes by car from the Notre Dame campus (flights should be booked to South Bend, Indiana — airport code SBN). Various transportation methods are available from (e.g., taxi, rental car, limo).
Visitors also can fly into Chicago then drive to Notre Dame. The University is about two hours by car from Chicago's O'Hare International Airport and about 90 minutes from Midway International Airport.
By Train
The South Shore Line trains run directly from the Chicago Loop (at the corner of Michigan and Randolph in Chicago) to South Bend International Airport (about a three-hour trip). Take the El into Chicago and the South Shore train from there. From the South Bend airport, the Notre Dame campus is approximately a 15-minute ride by car. Various transportation methods are available (e.g., taxi, rental car, limo).
Ride Share
Attendees who would like to carpool from area airports (or elsewhere) can submit their information to JGS Secretary, Kara McShane, using the following form: https://forms.gle/Sof8g1HXNEjrjVnGA. Ride sharing cannot be guaranteed, but Kara has agreed to manage requests and try to connect attendees as much as possible.
Time Zones
Please be advised that time zone changes occur in surrounding areas, including most nearby major airports. Chicago is Central time. South Bend/Notre Dame, Atlanta, and Detroit are Eastern time.
Buildings/Venues
All plenaries and sessions will take place in DeBartolo Hall.
Special Events
Book Exhibit, with 1532 and 1554 Berthelette Gowers, Rare Book Room, Hesburgh Library
Monday, 29 June
5:30pm – Reception, Hesburgh Library
8:00 – Hildegard of Bingen's "Cosmic Egg", Notre Dame Planetarium, Jordan Hall of Science
Tuesday, 30 June
1:30-2:00 – Discussion of Berthelette editions of the Confessio Amantis. Rare Book Room, Hesburgh Library with Emily McLemore
1:30-2:00 – small tour of the Medieval Institute, Hesburgh Library (sign up at registration)
2:00-2:30 –  small tour of the Medieval Institute, Hesburgh Library (sign up at registration)
7:00 – Conference Dinner, Morris Inn
Area Map
Online Map: http://map.nd.edu/
Parking
Valet parking is available at the Morris Inn for a fee. For those staying in the dorms, parking is free after 5:00 PM and on weekends; during the week the fee is $8.00/day.
Restaurants
https://hr.nd.edu/why-nd/community-connections/restaurants/
Cultural and Recreational Attractions
https://hr.nd.edu/why-nd/community-connections/entertainment-and-culture/
Contact info.
Direct any questions to R. F. Yeager (rfyeager@hotmail.com) or T. W. Machan (tmachan@nd.edu).